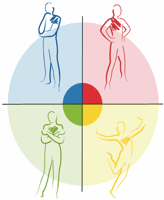 Your Personal Effectiveness Programme…
The Insights Personal Effectiveness Programme provides an introduction to the Insights Discovery learning system and the Insights Discovery Personal Profile. The approach is fun and interactive, and gives participants a language and framework for understanding themselves and others better which they can put into practice immediately.
Central to all our Profit Enhancement Programmes is the Insights Discovery Model, a dynamic transformational preference-based development tool. Using colour as a common language for self-understanding, effective communication and organisational development, Insights provides a common theme that permeates its way through all of our programmes:-
Management Performance
Team Effectiveness
Sales Productivity
Customer Loyalty and Lifetime Relationships
INSIGHTS as a model (based on Jung's Personality Types) will firstly identify four colour-energies – EARTH GREEN, FIERY RED, COOL BLUE AND SUNSHINE YELLOW.
Discover your dominant Colour Energy…
Are you an Earth Green – encouraging, reliable, trusting, caring, compassionate, open minded?
Or perhaps a Fiery Red – demanding, driven, competitive, intuitive, energetic, and confident?
You could be a Cool Blue – analytical, organized, objective, practical, and efficient?
Or a sunshine yellow – enthusiastic, creative, outgoing, spontaneous, perceptive, and imaginative?
These words are used to best describe traits of four personality colour energies. But these words are only used to describe you on a good day! What are you like on a bad day?
Request your profile and free telephone consultation now, and begin your amazing journey of Discovery…
Advanced Insights
Moving from the Four Primary Behavioural Types Insights provides more in depth understanding through an amazing journey into the EIGHT TYPES, which will really set your organisation on the path to extra Profit and Productivity (more information on application)
Who is INSIGHTS designed for?
Anyone who wants to enhance their own personal productivity and the REAL IMPACT their behaviour and communication has on those around them, in order to improve the performance of their team/organisation or just the levels of success in all areas of their life generally by better understanding themselves and others.
It is also ideal for people who would like to better understand and appreciate the differences of those around them, and how to manage their own reaction to people with whom they do not have natural rapport, or whom they may find irritating.
INSIGHTS is used by thousands of companies worldwide across many industry sectors as well as by individuals in all walks of life to help; understand people, improve performance, personal effectiveness and to manage communication, behaviour.
It is accessible in more than 30 countries and Insights materials are available in 25 languages.
Request your profile and free telephone consultation now, and begin your amazing journey of Discovery…